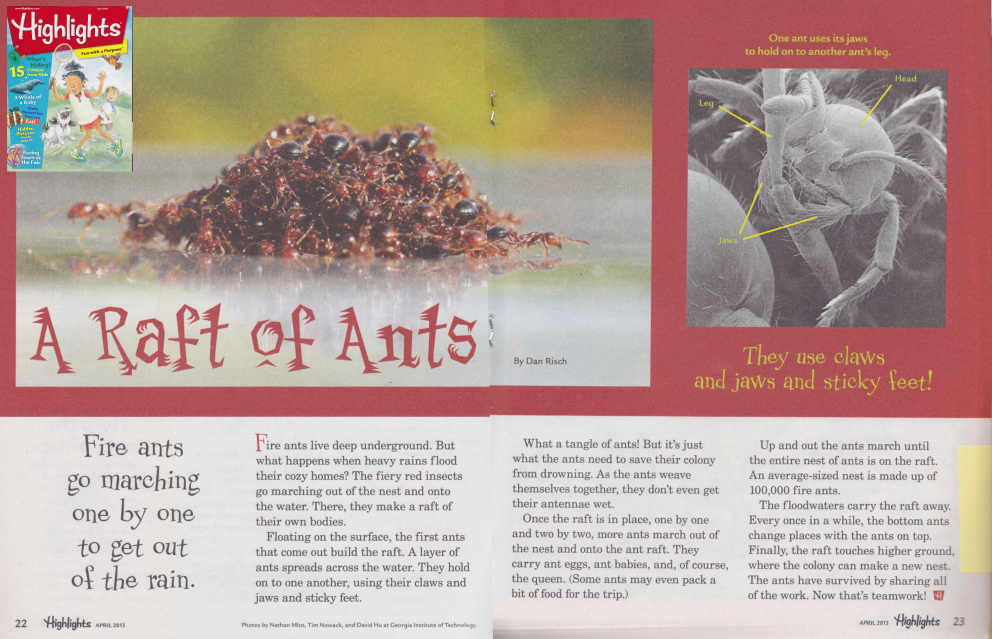 https://www.youtube.com/watch?v=MURthUvJcQ8
Questions:
What is my day like?    I spend most of the day meeting with my graduate students to brainstorm better experiments and edit our their manuscripts.  The remaining time, I write proposals or publicize my lab's work with news offices.
What is my favorite part of my job?   I like working with students on their research skills and watching them grow.  I also like helping communicate our science to the press.  Here is me getting ready for my discovery channel interview in 2011. 
Do your kids know what you do?  Not quite yet.  They are too young.  They notice I have 蚂蚁 (ants) on my computer a lot and they like to point that out.
From your kids point of view, what do you do?   We both spend time playing with fluids! Here's my daughter learning about fluids just like I do in my lab. 
When did you know you wanted be a scientist?   I published my first paper in 2003 on water striders and really enjoyed the process and the impact it made.  Here's my first coauthors, 12 years ago.  They are still my dearest friends. 
What was the hardest part of becoming a scientist?   During graduate school, my close friend named killed himself.  It was a very dark moment for me.  I decided then I would always balance work and play.
Are any of your inventions famous or used?  We have a patent disclosure on Scalybot, robot that uses motion of its scales to move.  We are working on an elephant-inspired toilet.
What was your most and least favorite project?  The best projects lead to new questions and keep going on.  Most of my projects are like that.
Have you ever had anything scary happen in your lab?  We have had a lot of adventures over the years, mostly dealing with animals escaping.
Who pays for this stuff?  National Science Foundation.  Army Research Office.
Do you have any tips?  Find people to encourage you.  My parents and wife are scientists and have always encouraged me.  
How can I practice being a scientist?  Practice solving problems in teams.  Here's my all-star team from fifth grade and my all-star team twenty-five years later. 
How is doing science different from being a student?  Doing science means setting your own rules, and then knowing which ones to keep, and which ones to break.